Time to relax the Mediterranean way
Feeling tired and in need to recharge your batteries? We all know the feeling when your body and mind tell you to take a break. We offer a wonderful retreat from busy life for every holiday seeker: relaxation in the lavish gardens, in the vineyard and olive orchard or at the pool among lavender and rosemary bushes. For the sportive and outdoor lovers we recommend the rolling hills between the mountains and the near Mediterranean sea, the beautiful beaches and the variety of water sports. We guarantee you that the special climate of the Kvarner Bay and the delicious food of the sea and land will nurture your body and mind. At VinodolSun we offer a unique balance of traditional architecture and luxurious housing. VinodolSun takes you higher.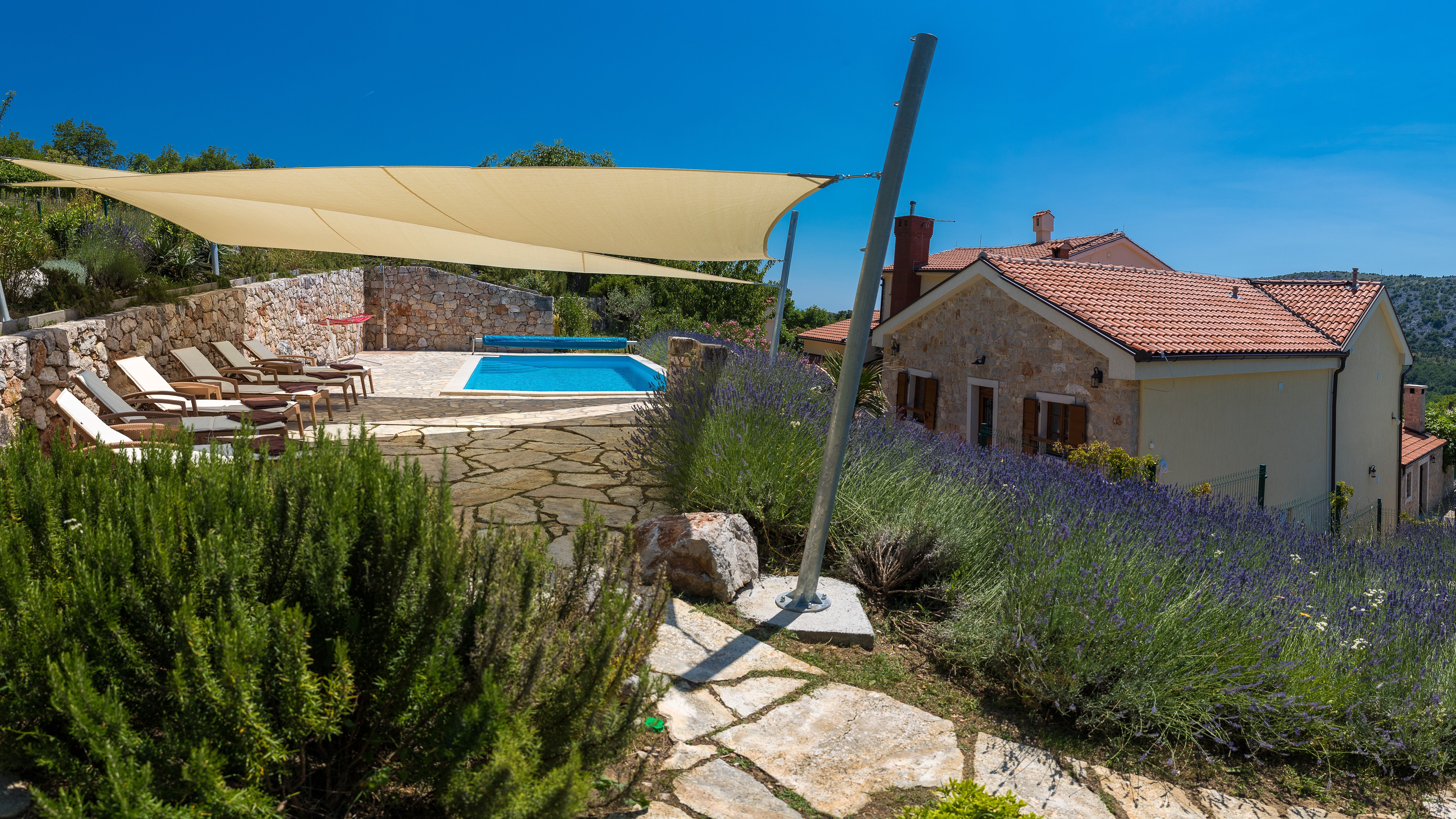 High-quality accomodations
It is important to us that everyone feels comfortable at VinodolSun from the very beginning: whether you are a guest, a friend or a family member, everyone is greeted with a warm welcome. That is why we furnished and equipped our accomodations with utmost care - you will see and feel it. Our priorities are sustainability and valuable interior equipment, paired with cosiness and style. Every sleeping room has its own bathroom, parts of the furniture have been fabricated especially by local carpenters - What leads us at VinodolSun is not the fast pace of our society but quality and tranquility.
VinodolSun puts a smile on your face
Relaxing at one of the pools among lavender, taking a walk into the olive orchard and vinyard, swimming, table-tennis, trampolining for the young folk, snorkling from the beaches and scuba diving in the sea (10 min drive down to Novi Vinidolski by car), mountainbiking, climbing, hiking, hunting, fishing......you choose your favorite. We recommend to venture on a trip through the upcoming gastronomy scene around the Khvarner Bay. You will be pleasantly surprised. What is more: try out a wine testing session at one of the local wine makers. Rijeka, the European culture city in 2020 invites you to museums and the opera (approx. 30 min drive by car). Be inspired!
About us
we stand for the combination of beauriful and healthy atmosphere and luxury: our houses a lovingly renovated and maintained - Villa Vallis, the traditional Croatian farm house which was rebuilt from the scratch, Villa Mediterran with 3 appartments and a double bedroom with ensuite bath . VinodolSun overseas a beautiful Croatian valley with olive trees, lavender and vinyards. On the estate we offer 2 pools, 2 outdoor kitchens, grand barbecue facilities, sauna and fitness, a wallbox to power electric cars and efficient Wifi2. There is a time for everything - VinodolSun is our own unique story. If you want to know more about the estate and us, here is the story.....
picture gallery
You are curious about VinodolSun and its Mediterranean amtmosphere as well as its comfort? Take a stroll around our picture gallery and get an impression of the recreational value which our guests like so much. If, nevertheless, you can not find, what you are looking for, please contact us immediately. We are happy to serve and will get back to you as soon as possible.